Home Defence News AUSA Global 2021: US Army aviation leader predicts FARA, FLRAA will survive possible flat Pentagon budget 18 March 2021 by Pat Host A US Army aviation leader is confident the service's Future Attack Reconnaissance Aircraft (FARA) and Future Long-Range Assault Aircraft (FLRAA) efforts will continue into fiscal year (FY) 2022 despite a possible flat Pentagon budget.
The Army has learned from the Comanche scout chopper debacle, where it spent $9 billion in today's dollars to get just two prototypes. With Future Vertical Lift, $7 billion will get 18 prototype aircraft, counting both the FARA scout and FLRAA transport.
---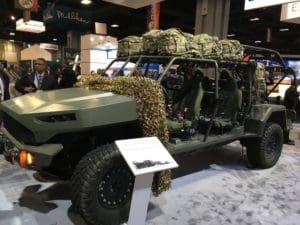 Military Systems Group is one of world's most widely used designer and producer of military machine gun mounting systems, Gunner Protection Kits and swing arms. MSG will supply the Swing Arms and Machine Gun mounts for the Infantry Squad Vehicle. MSG is supporting customers in all domains; Land, Air and Sea.