GM Defense Infantry Squad Vehicle concept Photo: GM Defense General Motors' defense business – which was resurrected two years ago after the auto giant sold its defense division to General Dynamics in 2003 – is positioning itself as a technology company rather than just a vehicle manufacturer as it diversifies its product line.
General Motors' defense business plans to leverage the parent company's commercial research-and-development efforts to support its work in defense and aerospace areas, National Defense reported Thursday. "Every year GM invests upwards of $7 billion to $9 billion in R&D," said David Albritton, president of GM Defense.
The GM Infantry Squad Vehicle, or ISV, is an absolute beast, built to drop from a helicopter and transport a nine-soldier squad to the battlefield. As we covered previously, the GM ISV is basically a Chevrolet Colorado ZR2 Bison from the waist down, including the diesel powerplant under the hood.
---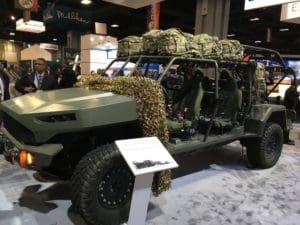 Military Systems Group is one of world's most widely used designer and producer of military machine gun mounting systems, Gunner Protection Kits and swing arms. MSG is supporting customers in all domains; Land, Air and Sea.