UAE manufacturer enhances 4×4 and 6×6 vehicles, while also works on developing an armed UGV. Nimr exhibited its second-generation Ajban 4×4 and Hafeet 6×6 wheeled armoured military vehicles at IDEX 2021 in Abu Dhabi on 21-25 February. Featuring advanced blast mitigation (demonstrated for Ajban 445 Mk2 in recent landmine blast tests in the UAE) and ballistic protection, the new monocoque Ajban and Hafeet platforms 'provide high levels of protection in the harshest of environments', Nimr claimed in a statement.
---
DAGOR Turrets and Machine Gun Mounts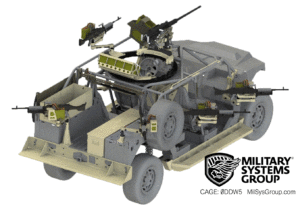 Military Systems Group is one of world's most widely used designer and producer of military machine gun mounting systems, Gunner Protection Kits and swing arms. MSG is supporting customers in all domains; Land, Air and Sea.