The 30-ton Marine Corps amphibious assault vehicles are the "the number one vehicle" to perform the amphibious assault mission, a Marine told Insider during a recent visit to Marine Corps Base Camp Pendleton. These lightly-armored, fully-tracked vehicles are able to operate in the water and on land and are essential for getting Marines from ship to shore.

M240 Firing from Top of Vehicle (ACV)
---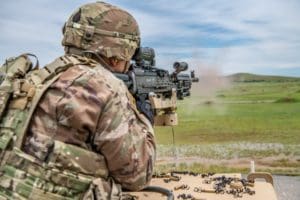 Military Systems Group is one of world's most widely used designer and producer of military machine gun mounting systems, Gunner Protection Kits and swing arms. MSG supplies Swing Arms and Machine Gun mounts for vehicles like the Amphibious Combat Vehicle. MSG is supporting customers in all domains; Land, Air and Sea.