ARLINGTON, Virginia – The Marine Corps commandant has issued his plans for a major redesign of the Marine Corps' force structure by 2030, with substantial reductions in some venerable weapon systems and increases in new systems. For example, traditional tube…Force Design 2030, signed out this month by Commandant Gen. David H. Berger, is aimed at more closely aligning the capabilities of the Corps with the National Defense Strategy, from a priority of confronting violent extremism to "great power/peer-level competition," with emphasis on the Indo-Pacific.
---
analysis focus army defence military industry army In its restructuration program, the U.S. Marine Corps plans to cut tank battalions and reduce infantry units over the next 10 years while investing in new capabilities involving other equipment.
---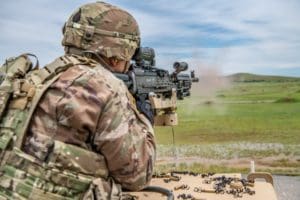 Military Systems Group is one of world's most widely used designer and producer of military machine gun mounting systems, Gunner Protection Kits and swing arms. MSG supplies Swing Arms and Machine Gun mounts for vehicles like the Amphibious Combat Vehicle. MSG is supporting customers in all domains; Land, Air and Sea.