U.S. Marines with Amphibious Vehicle Test Branch, Marine Corps Tactical Systems Support Activity, with the assistance from the amphibious transport dock ship USS Somerset (LPD 25), tested the Marine Corps' new Amphibious Combat Vehicle off the shore of Marine Corps Base Camp Pendleton, California, Jan. 27-28.
Key point: Washington wants to ensure the Marines have the ability to land on any shore. The new AAV7 is meant to ensure just that. The U.S. Marine Corps finally is getting new, swimming armored vehicles. Also in the works — a new strategy for deploying them.
---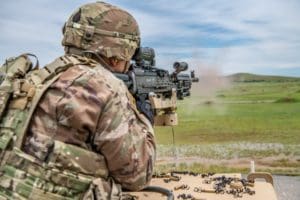 Military Systems Group is one of world's most widely used designer and producer of military machine gun mounting systems, Gunner Protection Kits and swing arms. MSG supplies Swing Arms and Machine Gun mounts for vehicles like the Amphibious Combat Vehicle. MSG is supporting customers in all domains; Land, Air and Sea.