Polaris' (NYSE: PII) government and defense business has won a potential seven-year, $109M contract from the General Services Administration to build a light tactical all-terain vehicle for the U.S. Special Operations Command.
---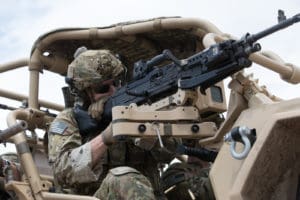 Military Systems Group is one of world's most widely used designer and producer of military machine gun mounting systems, Gunner Protection Kits and swing arms. Pictured is MSG's MRZR Mounting Bracket, Swing Arm and Machine Gun Mount  on the MRZR. MSG is supporting customers in all domains; Land, Air and Sea.
Kanguru Remote Management Console™ (KRMC) is a powerful way for organisations to manage secure USB devices containing sensitive data around the world. With FIPS 140-2 Certified, highly-secure 256-AES hardware encryption (XTS Mode), high-speed USB 3.0 data transfer rates, onboard AntiVirus by award-winning BitDefender®, and optional remote management capabilities, the Defender SDD300™ is simply the best option for securing sensitive data.
U.S. Special Operations Forces have a new light tactical vehicle: the Polaris MRZR Alpha. General Services Administration (GSA) awarded a follow-on contract to Polaris Government and Defense, a division of global powersports leader Polaris Inc., for the Light Tactical All-Terrain Vehicle (LTATV).