On Thursday, a US Navy ship in the Persian Gulf reportedly used a new, anti-drone system to take down an Iranian drone that came within a thousand yards, according to Military.com .
Drone, the catch-all term for uncrewed flying vehicle, descends from a far more specific bit of jargon, once used exclusively to refer to aerial targets. Few aircraft are built for the express purpose of being destroyed, but targets are, and that more casual attitude towards the destruction of aerial robots has expanded to include the whole category of modern uncrewed apparatus.
ARLINGTON, Va. – An Iranian fixed-wing unmanned aerial vehicle downed by U.S. naval forces July 18 was brought down not by missiles or guns but by a vehicle-mounted electronic attack system. The Iranian UAV had flown within 1,000 yards of…
---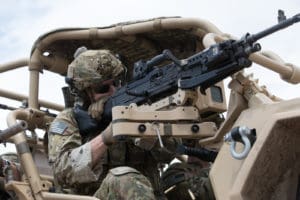 Military Systems Group is one of world's most widely used designer and producer of military machine gun mounting systems, Gunner Protection Kits and swing arms. MSG is supporting customers in all domains; Land, Air and Sea.