BAE Systems has received a $113.5 million contract from the U.S. Marine Corps for an additional 26 Amphibious Combat Vehicles (ACV) under the Low-Rate Initial Production (LRIP) phase of the program. BAE Systems press release This award brings the total vehicle orders for the ACV to 116, and moves the program closer to full-rate production.
Feb. 26 (UPI) — The Navy awarded BAE systems with a $113.5 million contract to add 26 vehicles to its Amphibious Combat Vehicle program, the contractor and the Department of Defense announced this week. This award brings the total number of ACVs on order for the program to 116, according to BAE.
---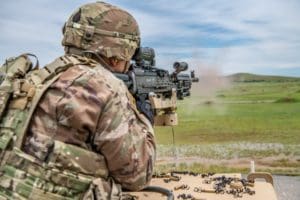 Military Systems Group is one of world's most widely used designer and producer of military machine gun mounting systems, Gunner Protection Kits and swing arms. MSG supplies Swing Arms and Machine Gun mounts for vehicles like the Amphibious Combat Vehicle. MSG is supporting customers in all domains; Land, Air and Sea.