PENTAGON: Two of the three armored fighting vehicle programs being built by BAE System's factory in York, Pennsylvania have been slashed in the 2021 budget.
Production challenges at BAE Systems' York, Pennsylvania, facility has prompted the US Army and US Marine Corps (USMC) to slow down their buys of three ground combat vehicle programmes – the Armored Multi-Purpose Vehicle (AMPV), the M109A7 Paladin self-propelled howitzer upgrade, and the
---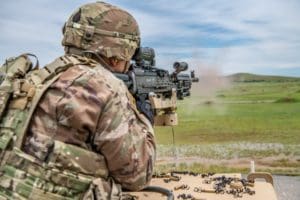 Military Systems Group is one of world's most widely used designer and producer of military machine gun mounting systems, Gunner Protection Kits and swing arms. MSG supplies Swing Arms and Machine Gun mounts for vehicles like the Amphibious Combat Vehicle. MSG is supporting customers in all domains; Land, Air and Sea.