SISU GTP 4×4 general-purpose vehicle was designed and developed by Finnish commercial and defence vehicle manufacturer SISU Auto. It is the latest variant in the SISU GTP family of 4×4 armoured vehicles. The SISU GTP range also includes armoured personnel carrier (APC), recovery, reconnaissance, and medical evacuation (MEDEVAC) variants.
---
DAGOR Turrets and Machine Gun Mounts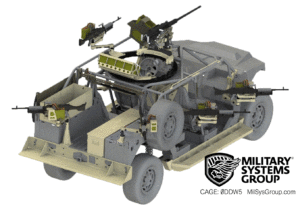 Military Systems Group is one of world's most widely used designer and producer of military machine gun mounting systems, Ring Mounts, Gunner Protection Kits and swing mounts. MSG is supporting customers in all domains; Land, Air and Sea.