Key Point: The U.S. Army is developing technology that'll give it the ability to fight Douglas MacArthur's feared land war in Asia. (Washington, D.C.) If a large mechanized unit of armored ground forces were "closing" with an enemy amid heavy artillery and cannon fire – but did not have overhead aircraft or satellite surveillance while transiting rigorous terrain – how could they fully discern the source of incoming fire?
General Motors' Infantry Squad Vehicle is one of three finalists pitting for a lucrative contract with the U.S. Department of Defense, and the Chevrolet Colorado-based vehicle was recently on display at the 2019 SEMA Show. We got the opportunity to get up close to the ISV, and among its various characteristics is the ability to transport wounded soldiers on a stretcher.
---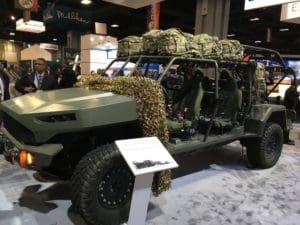 Military Systems Group is one of world's most widely used designer and producer of military machine gun mounting systems, Gunner Protection Kits and swing arms. MSG will supply the Swing Arms and Machine Gun mounts for the Infantry Squad Vehicle. MSG is supporting customers in all domains; Land, Air and Sea.